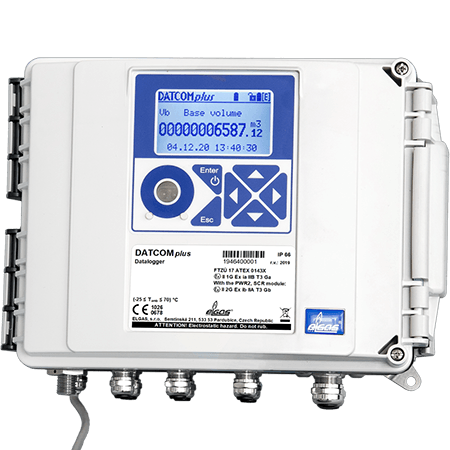 Product Description:
The device's design with respect for future extensibility enables the customer an easy supplement of the device's functions. In the case of the DATCOMplus model, the device can be equipped with up to two RS232/RS485 serial interfaces, an internal modem (available variants for 2G/3G/4G/NB networks), an external modem, up to 12 digital inputs, analog inputs and outputs 4 – 20 mA, and the possibility to install an interface for connecting the NAMUR or SCR+ encoders.
Up to 6 digital pressure and temperature transducers can be connected to the device.
Thanks to its wide hardware options and flexible software features including basic telemetry, the DATCOMplus is one of the most equipped and powerful volume datalogger on the market.
The extended measuring ranges of the pressure transducer make it easier for the customer to order a proper datalogger.
DATCOMplus is also available in a version capable of measuring and operating in temperatures from -40 °C.
DATCOMplus wireless connectivity enables the connection of two modems simultaneously (internal+external or 2x external). Internal modems are available for 2G, 3G, 4G Cat1, 4G Cat M1, and NB (NarrowBand) networks and can be used in ZONE 0 explosive environment.
All device communication interfaces are mutually independent.
The device includes an integral data logger with a large 16MB memory, allowing it to store measured data at hourly intervals for more than 10 years.
The device´s housing was designed to operate in harsh outdoor environments with certified IP66 protection.
Basic Features:
One, two, three-channel gas volume datalogger
Modular design
High accuracy and stability of measurement
The battery life of up to 18 years for a datalogger (B-03D battery) and 11 years for a modem (HB-03D battery) under defined conditions
Up to 6x digital pressure transducer EDT96, or digital temperature transducer EDT101 with extended measuring ranges
Pressure measuring range up to 130 bar
The optional external power supply of the datalogger and/or of the modem
High memory capacity for storing measured values
The variant of the device for operating in temperatures from -40 °C
Two variants of LCD display – graphical display (allowing full interaction with the device) or segment display (constantly illuminated – non-switched off)
Robust design with IP 66 protection suitable for outdoor installation
Fully configurable device via supplied software (COMPASS or TELVES)
Designed for a potentially explosive environment in ZONE 0, 1 and 2
ATEX certificate FTZÚ 17 ATEX 0143X
4x independent communication interfaces with supported speed up to 115 200 Bd
Optional integrated modem
Modems for 2G, 3G, 4G Cat1, 4G Cat M1, and NB (NarrowBand) networks available
Support for 2x external modem connected via serial interface
IEC 62056-21 optical interface (IEC-1107) with supported speed up to 115,200 Bd
Integrated RS232/RS485 serial interface + 1x RS232 (optional module located in internal modem slot)

Inputs / Outputs:

Up to 12x digital inputs (2x high-frequency pulse, 10x low-frequency pulse / binary)
4x digital outputs (low-frequency pulse, binary)
Up to 4x analog inputs 4 – 20 mA
Up to 4x analog outputs 4-20 mA integrated into the device
Up to 4x analog outputs provided via external CLO module (4-20mA)
NAMUR or SCR+ encoder interface (optional)
Internal Modules:
EXT1/HF – extension multifunctional module containing 2x NAMUR encoder (10s÷1h)
SCR – interface module for ENCODER – SCR+ (10s÷1h)
EXT1 – extension multifunctional module containing 2x NAMUR encoder (10s÷1h), 2x HF input, and with expandable board EXT1/T other 6x LF/binary input and 2x analog inputs 4-20 mA
NAMUR – interface module for ENCODER – NAMUR (60s÷1h) 
M2G – 2G modem, GSM/GPRS (Quad band 850/900/1800/1900MHz)
M4G – 4G modem, LTE (available in several versions for different world technology including a modem for LTE-catM1 networks)
COM1 – RS232/RS485 communication module
COM0 – RS232 communication module
PWR1 – internal module for external power supply of the datalogger
PWR2 – internal module for external power supply of the internal modem
AI – Analog input module 4-20 mA
AO – analog output module 4-20 mA
External Modules:
B-RS  – Intrinsically safe barrier module for RS485/RS232 serial communication interface
B-DO  – Intrinsically safe barrier module for digital outputs
B-IB – Intrinsically safe barrier module for digital inputs
CLO – 4-20mA current output module
PS-E – intrinsically safe power source module for the datalogger part
PS-M – intrinsically safe power source module for the modem
SRM – solar controller module (for solar cell power supply)
Opening Hours:
---
Monday - Friday: 8am - 5pm
Weekends - Closed
SALES EMAIL IS MONITORED 24/7