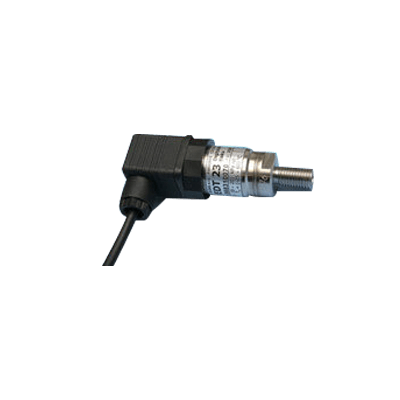 The EDT 23 Pressure transducer is a miniature precise instrument designed for measuring the pressure of liquid and gaseous media. The EDT 23 is ideal for integration into modern digital systems such as data-loggers, gas-volume conversion devices and telemetric systems.
The pressure transducer provides high accuracy, long-term stability and very low power consumption. The device is equipped with an RS 485 bus to provide Modbus communication with the controlling system.
Reading of the measured values or configuration of the transducer is conducted via the RS485 interface. Measurement is performed on requests or automatically as per the time interval pre-set. Measured values are stored in the internal memory and can be read when needed.
Transducer
Measurement
ranges

Absolute pressure

80-520, 200-1000, 400-2000, 700-3500, 1400-7000 kPa
Gauge pressure

0 to 20, 100, 160, 400, 600, 1000, 2500, 4000, 7000 kPa
Other ranges on request
Weight
100 – 150 g (standard cable length)
Environment
Operating temperature




-25°C to +60°C standard, -40°C to +85°C optional
Storage temperature
-40°C to +85°C
Humidity
0% to 95% rel., non-condensing
Sealing
version A - IP 20, version B, C, D - IP 65
Vibration
10g sine 10-2000Hz, EN 60068-2-6
Pressure media
Fluids compatible with a fully welded assembly of 316 (1.4401) stainless steel
Overpressure
The rated pressure can be exceeded without degrading performance
1,25 x for absolute ranges
2 x for gauge ranges
Accuracy
±0,25% of reading (all absolute ranges)
±0,1% of full scale (gauge ranges 100 kPa and above)
±0,3% of full scale (gauge ranges bellow 100 kPa)
Comprises non-linearity, hysteresis, repeatability and temperature effects
For full technical specification please download the data sheet
Features
Ranges from 0 to10 kPa relative to 0 to 7000 kPa relative, from 80 to 520 kPa absolute to 1400 to 7000 kPa absolute

Digital interface RS 485 with Modbus communication protocol

Very low power consumption: 10 µA idle condition, 1 mA operation

Supply voltage from 2,9V

High accuracy: ±0,1% from range or ±0,25% from measured value

Small size, resistant case from stainless steel

Approved to be installed into hazardous area

CE Certificate II 2G Ex ia IIC T4 Gb

tyjnoufbjalicuekifen
Opening Hours:
---
Monday - Friday: 8am - 5pm
Weekends - Closed
SALES EMAIL IS MONITORED 24/7