The RB 2000 regulator is designed for applications and for all installations with continuous consumption or rapid flow rate variations, such as burners, industrial ovens, boilers. It is suitable for installation in cabinets as a space-saving regulator.
The RB 2000 regulator is a direct-acting, spring-loaded regulator (lever type) with a built-in relief valve and optional safety shut-off device.The balanced valve ensures constant outlet pressure when the upstream pressure varies.This eliminates changes to the orifice size arising from different inlet pressure ranges. The regulator is equipped with a built-in filter (filtration grade 0.5 mm). The safety shut-off valve cuts the gas flow when the outlet pressure exceeds the set pressure (OPSO) or when it drops below the set value (UPSO). It remains closed until the valve is reset manually.
The relief valve avoids triggering the safety shut-off valve in case of thermal expansion, transient surges of pressure, and creep leaks from the regulator. The relief pressure is pre-set at the factory.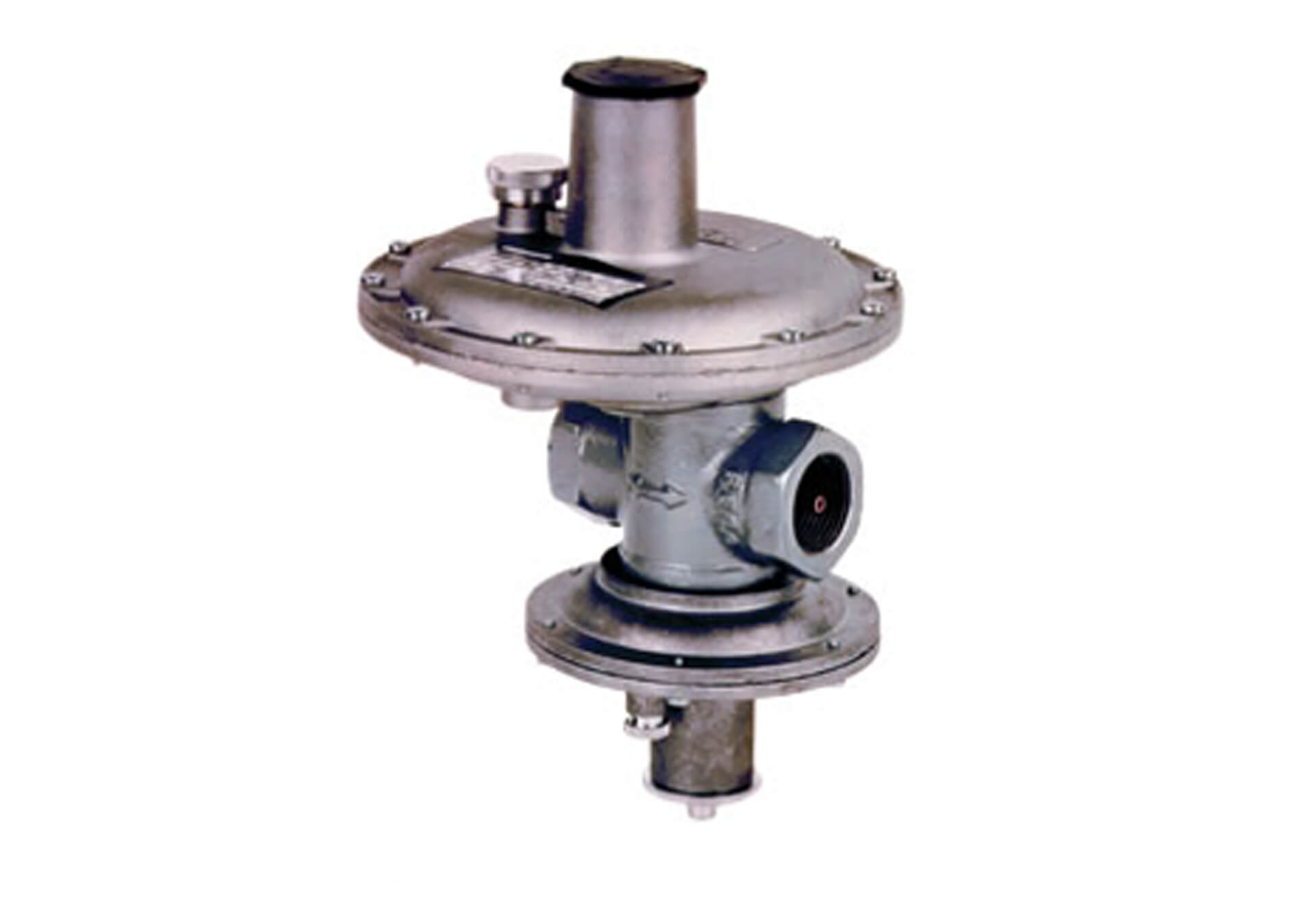 Itron RB 2000 for residential, commercial and small industrial applications
The RB 2000 service regulator is a high-performance regulator with a large effective diaphragm area and powerful lever ratio. The balanced valve design provides constant outlet pressure under all inlet pressure conditions. Typical applications include demanding residential and commercial services as well as small industrial services.
The RB 2000 features an integral shut-off valve for over and under-pressure protection, a creep relief valve and a valve protection strainer.
RB2000
Application

Light Commercial & Industrial

Outlet Pressure

5mbar – 180mbar – Ext range up to 750 mbar
Max Inlet Pressure
10 bar

Body Sizes
1"x1" -1"x1"1/2
Connections
Parallel internal thread per
ISO 228/1 or
ISO7/1
Monitor version

Optional
Internal creep Relief valve
Standard
Strainer
Yes
Over pressure/Under Pressure shut off valve (OPSO)/(UPSO)
Optional
Control
Direct acting
Accuracy and lock up pressure

Up to AC5/ up to SG10

Balanced valve design eliminates inlet pressure effect

Rugged construction for durability

Rapid response to load changes

Built-in shut-off valve

Internal relief

Inlet strainer
Opening Hours:
---
Monday - Friday: 8am - 5pm
Weekends - Closed
SALES EMAIL IS MONITORED 24/7