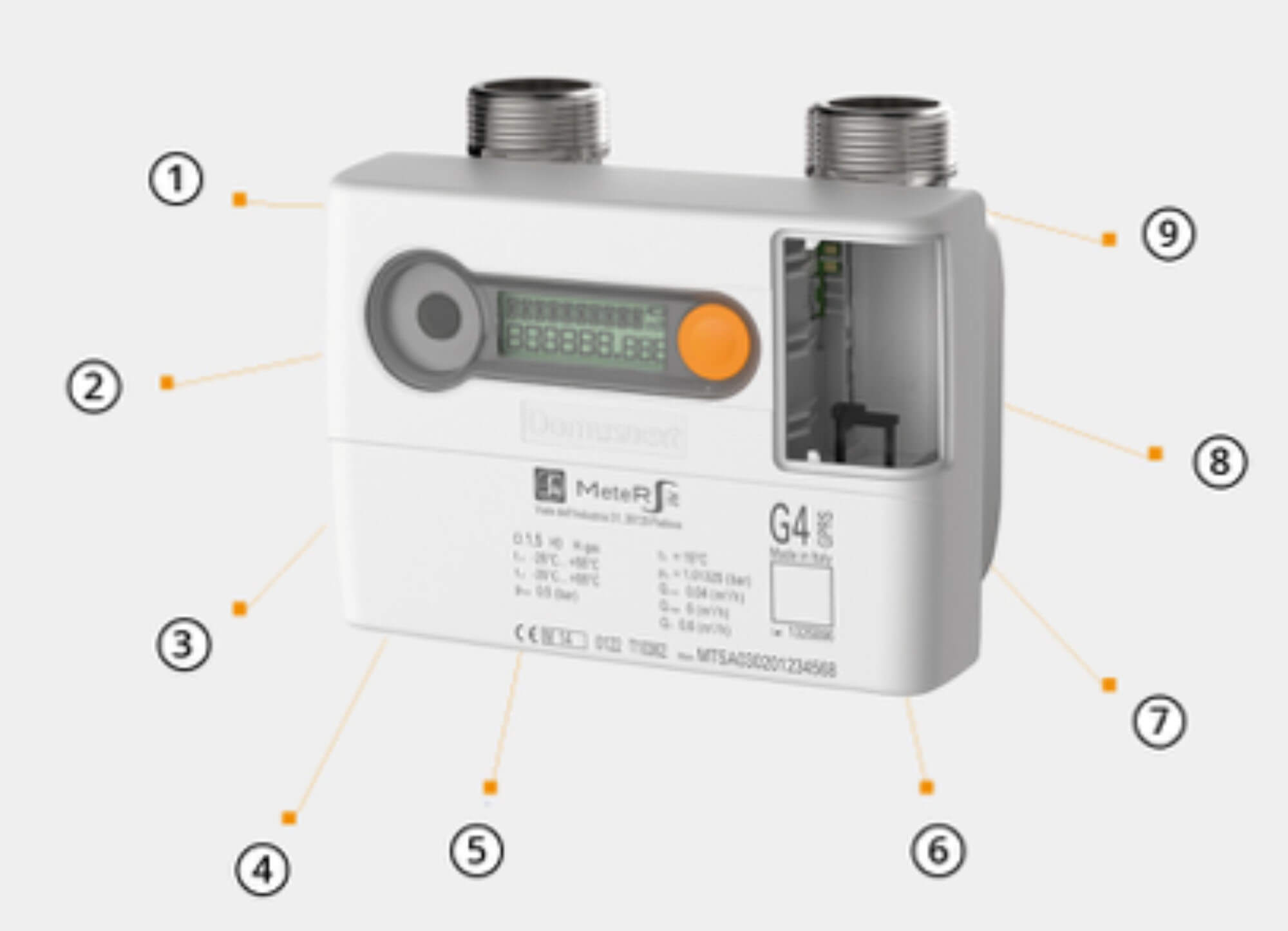 1 Shut-off valve: Integrated shut-off valve (optional), which can be remotely controlled, in accordance with EN 16314
2 Consumption curves: Hourly and daily consumption storage for 72 days.
3 Tariff management: Management of 3 tariffs, with consumption divided into 5 daily tariff bands, which can be programmed for weekdays, weekends/public holidays and daylight saving time.
4 Small Size: Compact design. Easy to install and initialise.
5 Measurement and certifications: MID certifications Module B T10362 and Module D EC-193.
6 Encryption / Authentication: AES 128-bit encrypted communication.
7 Replaceable SIM: SIM is replaceable on location; it is accessible from the battery compartment.
8 Alarms: Alarms to signal abnormal operating conditions and suspected hacking. Logger to record alarms and events.
9 Software Upgrade: The application software can be remotely updated.  
Thermal mass Electronic Gas Meter
SMETS2 ready
Remotely controllable for end user contract management
Exact Measurements- no need for approximate values leading to estimation errors
Accuracy of measurement at every temperature and every pressure
Transparent and timely billing
Innovative and Reliable
Very low noise level
G4
Type Approval
MID T10362 Module B
and CE-193 Module D
Measuring range
0.04 – 6.0 m3/h
Standard temperature for volume output
15 °C
Operating temperature
-25 °C to 55 °C
Standard pressure for volume output
1013.25 mbar
Gas application
2nd Family Group H and L (EN 437)
Max. operating pressure
500 mbar
Accuracy class
1.5
Measuring AccuracyQmin Qt
± 3.0 %
Measuring AccuracyQt Qmax
± 1.5 %
Max. Pressure drop
<2 mbar at Qmax
Nr. of tariffs
3
Depth of consumption registers @ 1 day rate
72 days
Depth of consumption registers @ 1 hour rate
72 days
Nominal Diameter DN
G 1' ¼- ISO 228/1
Inlet & Outlet Distance
110 mm
Width x Height x Depth
192 mm x 137,3 mm x 102 mm
Weight
1.7 kg
Resistance to water, dust and impact
IP 65, IK 08
ATEX
zone 2 Ex II 3 G Ex nA IIA T6 Gc
Display
2 lines multi-segment display Upper line 10 characters
Lower line 9 digits
Automotive range –30°C to +85°C
Optical port
EN 62056-21
Valve
Compliancy with EN 16314
Maximum leakage for the valve
120 cc/h at Pin = 500 mbar
Battery supply
2 x 3.6 V size D lithium cell
(19Ah each)
Functioning without external battery
> 7000h
Available with the following communication technologies
Wireless MBUS169MHz
WirelessMBUS 868 MHZ
GPRS
Opening Hours
---
Monday - Friday: 9am-5pm
Weekends - Closed