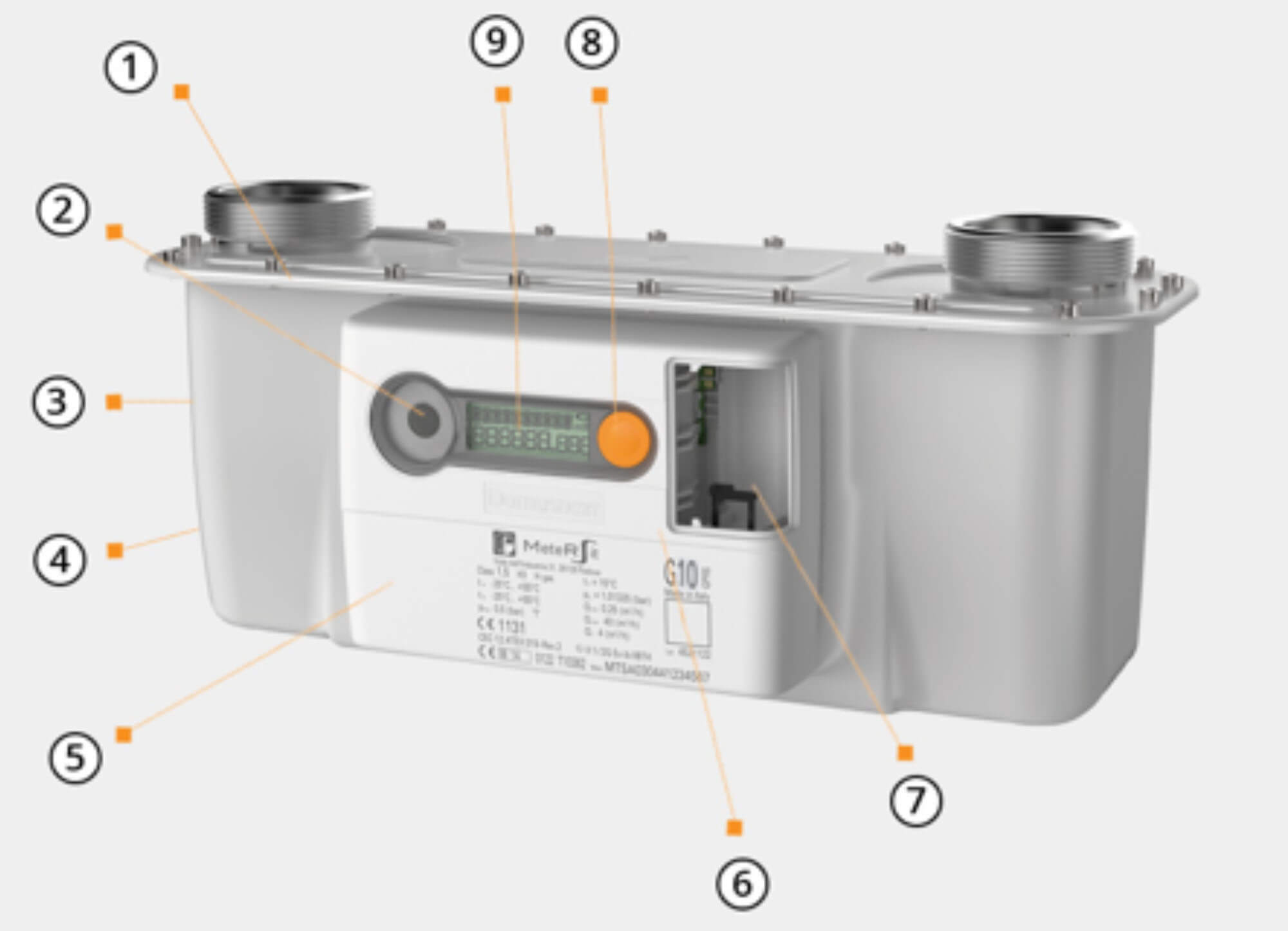 The Domusnext® counters are next-generation measuring instruments, electronic, static, telemetered and managed remotely, offering easy, reliable installation.
G10/G16/G25
Type Approval
MID T10362 Module B
and CE-193 Module D
Measuring range
G10: 0.10-16.0 m3/h
G16: 0.16-25.0 m3/h
G25: 0.25-40.0 m3/h
Standard temperature for volume output
15 °C
Operating temperature
-25 °C to 55 °C
Standard pressure for volume output
1013.25 mbar
Gas application
2nd Family Group H and L (EN 437)
Max. operating pressure
500 mbar
Accuracy class
1.5
Measuring AccuracyQmin Qt
± 3.0 %
Measuring AccuracyQt Qmax
± 1.5 %
Max. Pressure drop
G10, G16: <2 mbar at Qmax
G25: <3 mbar at Qmax
Nr. of tariffs
3
Depth of consumption registers @ 1 day rate
72 days
Depth of consumption registers @ 1 hour rate
72 days
Nominal Diameter DN
G 2" - ISO 228/1

Inlet & Outlet Distance
G10, G16: 280 mm G25: 335 mm
Width x Height x Depth
436 x 188 x 188 mm
Weight
5.7 kg
Resistance to water, dust and impact
IP 65, IK 08
ATEX
zone 1
Ex II 1/2 G Ex ib IIB T4
(CEC12 ATEX019 12/2031 AET 944)
Display
2 lines multi-segment display Upper line 10 characters
Lower line 9 digits
Automotive range –30°C to +85°C
Optical port
EN 62056-21
Battery supply
3.6 V size D lithium cell (19Ah)
3,6 V size AA lithium cell (2.2Ah)
Functioning without external battery
> 5000h
Available with GPRS communication technology
Exact Measurements- no need for approximate values leading to estimation errors
Transparent and timely billing
Innovative and Reliable
1 Small Size: Compact design. Easy to install and initialise.
2 Optical Port: Compliant to EN 62056-21.
3 Built-in communications system: Bi-directional radio communication of data, commands and alarms.
4 Consumption curves: Hourly and daily consumption storage for 72 days.
5 Antenna: Integrated high performance antenna. Optional external antenna on request.
6 Battery 1: Replaceable 3.6 V D-size lithium battery (19Ah); with transmission of low battery and battery-removal alarms.
7 Replaceable SIM: SIM is replaceable on location; it is accessible from the battery compartment.
8 Single button: Supports the display of messages.
9 Display: Top line has 10 alphanumeric characters and the bottom line has 9 numeric characters, with a high resistance to sunlight.
Opening Hours
---
Monday - Friday: 9am-5pm
Weekends - Closed