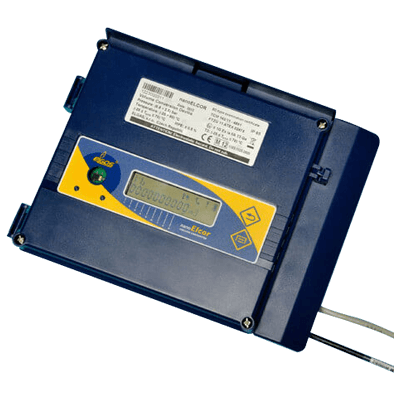 Optional accessories
Thermowell, mounting kit, three-way tap (type DN 3 PN 100)

Infrared head HIE-03 (RS232) or HIE-04 (USB)

Current output module CL1 (4 – 20)mA

Communication modules DATCOM K3

Telves – Setting and service SW
The nanoELCOR is a battery powered EVC with an integrated GSM/GPRS modem designed to be used for installation in hazardous areas.
The device can be installed either as a standalone EVC or integrated with a diaphragm gas meters offering the opportunity to both implement a low-cost solution with high performance at an excellent price level for smart metering.
The nanoELCOR uses internal security-sealed switches to prevent unauthorised configuration changes and unauthorised access to data within the device. In addition, a sophisticated system of passwords can also be activated.
The device is equipped with two buttons and a backlit alphanumeric LCD display. Users can easily check instant values and device parameter
nanoELCOR
Housing
polycarbonate
Dimensions (w x h x d)
233 x 178 x 47 mm
Weight
1.3kg
Protection class
IP 65 (EN 60529)

Working temperature
-25°C to +70°C
Control panel
2 button keypad
Display
alphanumeric backlit LCD display
Power supply
2 lithium battery packs; LP-07 (modem) and
LP-08 (corrector) operating time more than
5 years in defined condition

Measuring temperature range
-25°C to +60°C
Measuring pressure ranges
(bar, absolute)
• narrow ranges
• standard ranges
• wide ranges


0.8 - 2.5; 1.6 - 5.2; 3 - 10
0.8 - 5.2; 2 - 10; 4 - 20; 7 - 35; 14 - 70
0.8 - 10; 4 - 70
Accuracy
<0.5% from measured value (MID)
<0.15% typically from measured value

Communication interface
optical interface IEC62056-21:2002 GSM/GPRS/SMS modem

Communication speed
optical interface (IEC62056-21:2002): 9.6 - 38.4 kbit/sec

Digital inputs
3 digital inputs (configurable as LF or binary)

Digital outputs
2 digital outputs (configurable as pulse or binary output
Analog outputs
up to 2 analog outputs using external CL1 module; 4-20mA
Features
Miniaturised compact solution

Installed either as standalone device or integrated with diaphragm gas meters type G10 and more

Designed to be used for installation in hazardous area – Zones 0, 1 and 2

Battery lifetime more than 5 years

Fully configurable device (Telves service tool)

Alphanumeric LCD backlit display

Typical error under reference conditions < 0.15 % from measured value (<0.5 % –  MID)

Certification FTZU 11 ATEX 0247X and MID TCM 143/11-4891

Protection class IP 65

Working temperature -25°C to +70°C
Communication
Optical interface IEC 62056-21

GSM/GPRS modem
Inputs / Outputs
3 digital inputs (2 LF inputs, 1 tamper input)

2 digital outputs

Up to 2 analogue outputs realized via CL1 module (4-20mA)
Opening Hours
---
Monday - Friday: 9am-5pm
Weekends - Closed