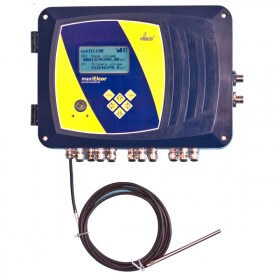 Optional accessories
Thermowell, mounting kit, three-way tap (type DN 3 PN 100)

Digital transducers EDT 23 (pressure) or EDT 34 (temperature)

Infrared head HIE-03 (RS232) or HIE-04 (USB)

Current output module CL1 (4 – 20)mA

Intrinsically safe power supplies JBZ-02, JBZ-03

Communication modules DATCOM K3/K4

GSM/GPRS communicator DATCOM AMR1/AMR2/AMR3

Telves – Setting and service SW
The miniELCORE is a battery powered gas volume corrector, offering exceptional value for money as it is competitively priced for effective metering and data collection, and has up to 6 years of battery life in defined conditions.
The miniELCORE provides a complex solution for  transfer measuring and telemetric data collecting. It is designed to be used in hazardous areas and is a good first choice for basic telemetric functions and billing. The password-protected feature offers the added peace of mind to prevent unauthorised tampering and access. The miniELCORE comes equipped with a 6 button keyboard and backlight graphical LCD display, for the user to readily read values in real time.
As an optional extra the miniELCORE can be installed with GSM/GPRS communication. It can also be powered from an external safe power source.
miniELCOR
Housing
polycarbonate
Measuring temperature range
-25 °C to +60 °C
Dimensions (w x h x d)
193 x 160 x 73 mm
Measuring pressure ranges (absolute)
MID certified
non MID
Weight
1.2 kg
standard range (bar)
0.8 - 5.2
2 – 10
4 – 20
7 – 35
14 - 70
0.8 - 5.2
0.8 – 10
0.8 – 20
0.8 – 35
0.8 - 70
Protection class
IP 66 (EN 60529)
enhanced range (bar):
0.8- 10
4 - 70
Working temperature
-25 °C to +70 °C
Accuracy
<0.5 % from measured value
(MID)
<0.15 % typically from measured
value
Power supply

Lithium battery operating time is
more than 6 years in defined
condition with option of intrinsic
safe power supply JBZ-02
Communication interface
RS-232 / RS-485 serial interface
Optical interface IEC-1107
GSM/GPRS modem
Type of battery

SAFT standard lithium battery
(D size 3.6V/17Ah)
Communication speed
RS232/RS485: 9.6 - 57.6 kbit/sec
Optical interface: 9.6 - 38.4 kbit/sec
Control panel
6 button keypad
Analog output
external CL1 module (4 - 20mA)
Display



Graphical LCD display with
backlighting (also in battery mode),
128 x 64 pixels
Digital input
4 digital inputs (configurable as LF,
HF or binary)
Communication and
service software
TELVES software for Windows
Digital output
4 digital outputs (configurable as
pulse or binary output)
Features
One channel Electronic Volume Converter (EVC)

Designed to be used for installation in hazardous area – Zones 0, 1 and 2

Battery lifetime more than 5 years

Fully configurable device (Telves service tool)

Graphical backlit LCD display 128 x 64 pixels

Possibility to connect 3rd pressure or temperature sensor

Possibility to connect second EVC as subsystem

Typical error under reference conditions < 0.15 % from measured value (<0.5 % –  MID)

Certificate FTZU 08 ATEX 0324X

Protection class IP 66

Working temperature -25°C to +70°C
Communication
Serial interface RS-232 / RS-485

Optical interface IEC 62056-21
Inputs / Outputs
6 digital inputs, configurable as LF, HF or Binary

2 analogue inputs, 4-20mA

4 digital outputs, configurable as pulse or binary outputs

Up to 4 analogue outputs realized via CL1 module (4-20mA)
Opening Hours
---
Monday - Friday: 9am-5pm
Weekends - Closed