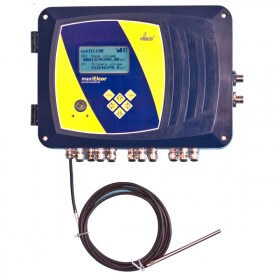 Optional accessories
Thermowell, mounting kit, three-way tap (type DN 3 PN 100)

Digital transducers EDT 23 (pressure) or EDT 34 (temperature)

Infrared head HIE-03 (RS232) or HIE-04 (USB)

Current output module CL1 (4 – 20)mA

Intrinsically safe power supplies JBZ-02, JBZ-04

Communication modules DATCOM K3/K4

Expansion module for digital transducer option (Option board RS485)

Telves – Setting and service SW
A Complete Solution for Custody Transfer Measurement and Telemetric Data Collecting
The maxiELCOR is a battery powered Electronic Volume Corrector with an integrated GSM/GPRS modem.  The unit is designed for converting gas in operating conditions to gas volume in standard conditions, reading pulses from the gas meter, measuring temperature and pressure.  The unit provides various inputs and output options depending on the user's configuration.
In either single or dual channel modes, the maxiELCOR is suitable for installation in hazardous areas with the option of an additional third non-metrological channel. With a large variability of expansion boards, which can be optionally installed inside housing, the maxiELCOR offers a complete solution for telemetry data collection and billing. 
The maxiELCORE comes equipped with a 6 button keyboard and backlit LCD display, for the user to readily access values in real time. Communication with the unit be achieved via the serial interface RS-232/RS-485, infrared head or via a GSM/GPRS modem.
Maxi ELCOR
Housing
polycarbonate
Dimensions (w x h x d)
307 x 222 x 87 mm
Weight
2.2 kg
Protection class
IP 65 (EN 60529)
Working temperature
-25°C to +70°C
Control panel
6 button keypad
Display
graphical LCD display with backlighting (also in battery mode), 128 x 64 pixels
Power supply
2 lithium battery packs, operating time is more than 5 years in defined condition with option of intrinsic safe power supply (JBZ02)
Measuring temperature range



-25°C to +60°C
Measuring pressure ranges (bar, absolute)
MID certified - standard ranges
- enhanced ranges
without MID - standard ranges

0.8 - 5.2; 2 - 10; 4 - 20; 7 - 35; 14 - 70
0.8 - 10; 4 - 70
0.8 - 5.2; 0.8 - 10; 0.8 - 20; 0.8 - 35; 0.8 - 70
Accuracy
<0.5 % from measured value (MID)
<0.15 % typically from measured value


Communication interface
RS-232 / RS-485 serial interface
optical interface IEC-1107
GSM/GPRS modem

Communication speed
RS232/RS485: 9.6 - 57.6 kbit/sec
optical interface (IEC-1107): 9.6 - 38.4 kbit/sec
Digital inputs

4 + 2 digital inputs (configurable as LF, HF or binary)
Digital outputs
4 digital outputs (configurable as pulse or binary output)
Analog inputs
2 analog inputs; 4-20mA (maxiElcor var. B and C)
Analog outputs
Up to 4 analog outputs by using external CL1 module; 4-20mA
Features
One or dual channel Electronic Volume Converter (EVC)

Designed to be used for installation in hazardous area – Zones 0, 1 and 2

Battery lifetime greater than 5 years

Fully configurable device (Telves service tool)

Graphical LCD display 128 x 64 pixels with backlit

Possibility to connect 3rd pressure or temperature sensor

Possibility to connect second EVC as subsystem

Typical error under reference conditions < 0.15 % from measured value (<0.5 % –  MID)

Certificate FTZU 09 ATEX 0290X

Protection class IP 65

Working temperature -25°C to +70°C

Breather interface as standard
Communication
Serial interface RS-232 / RS-485

Optical interface IEC 62056-21

GSM/GPRS modem
Inputs / Outputs
4 + 2 digital inputs

4 digital outputs

2 analogue inputs (maxiELCOR EXT1 or maxiELCOR GSM EXT1)

Up to 4 analogue outputs realized via CL1 module (4-20mA)
Opening Hours
---
Monday - Friday: 9am-5pm
Weekends - Closed